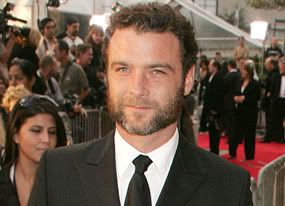 Liev Schreiber Pulls CSI Duty
by Natalie Finn
Liev Schreiber has landed his first TV series and, if you're going to start somewhere, it may as well be the top.
The Tony Award-winning actor is joining the cast of mega-hit
CSI
later this season as a veteran detective who comes on board to fill the void left by lead investigator William Petersen, who's taking a few episodes off in 2007.
Schreiber, whose stage and screen roles have ranged from Macbeth to Orson Welles to the creepy-yet-wrongfully convicted Cotton Weary in
Scream
, will appear for the first time at the Las Vegas Crime Lab in January.
"I'm a huge Liev Schreiber fan,"
CSI
executive producer Carol Mendelsohn said. "On stage or in film, I think he's one of the finest actors of his generation."
The 39-year-old actor, who's currently engaged to
The Ring
star Naomi Watts, snagged a Tony for his work in the 2005 revival of David Mamet's
GlenGarry Glen Ross
. He played Ricky Roma, the same shoes filled by Al Pacino in the 1992 film adaptation.
"We knew it was a long shot, he really doesn't do television," Mendelsohn said. "But he was patient and I think amused, as we promised that we'd create a character for him that he couldn't refuse to play. Excitingly for us, he collaborated in this process.
"And we've got a wonderful, complex character as a result."
Schreiber, who counts himself as one of
CSI
's 20 million-plus fans, couldn't resist.
"After meeting the people who run
CSI
, it immediately becomes apparent why it has consistently been one of the top shows on television," he said. "I am a fan—how could I say no?"
He's certainly not alone. Nearly 20.5 million people tuned into the crime procedural last Thursday, making it the third most-watched show of the week, behind only
Dancing with the Stars
and this little medical drama called
Grey's Anatomy
, which has proven to be the only scripted series capable of putting a dent in
CSI
's formerly bulletproof dominance.
When he wasn't tearing it up onstage this year, Schreiber battled evil in his own backyard in the remake of
The Omen
and worked on the upcoming films
The Painted Veil
, with Watts and Edward Norton, and the ensemble comedy
The Ten
with Jessica Alba, Paul Rudd, Adam Brody and Amanda Peet.
Schreiber is also set to star in Mike Newell's long-awaited adaptation of Gabriel García Márquez's
Love in the Time of Cholera
alongside Javier Bardem, John Leguizamo, Benjamin Bratt and Catalina Sandino Moreno.
Source